Massimo Tagliavini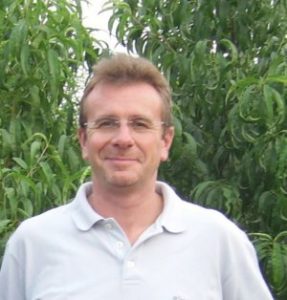 Full professor
massimo.tagliavini@unibz.it
2008 – 2014: Dean of the Faculty of Science and Technology.
2007: Appointed full professor at the Faculty of Science and Technology of the University of Bolzano.
He teaches Fruit Science and Fruit Tree Ecosystems.
1998: Appointed Associate Professor at the Faculty of Agriculture of the Bologna University.
1992-1997: Post Doctorate – University of Bologna.
1991: Doctoral Degree University of Bologna in Tree Sciences.
1986: Master degree in Agricultural Science.
Born in 1961.
Main fields of research
Carbon fluxes in managed ecosystems; iron chlorosis; mineral nutrition of trees; root physiology; water relations and needs.
He coordinated two National Prin (2004 and 2008) Projects on carbon cycle in fruit tree ecosystems and was general or local responsible of several national, international and regional projects.
He has published more than 150 scientific papers, about 50 of them on International refereed Journals with IF. Several papers are in the Proceedings of International Conferences or chapters of international and national books.
Invited Keynote speaker in several international conferences.
Chairman of the Working Group of the International Society for Horticultural Sciences on Mineral Nutrition Crop Plants 2000-2005 and again from 2012.
Editor of Acta Horticulturae (ISHS) volumes 234, 282, 594 and 596; guest Editor of J. Plant Nutrition volume 26 /10 & 11.
Scientific Secretary VIII International ISHS Symposium on Pear Growing Ferrara 2000.
Convener of International  Symposium ISHS on Foliar Nutrition of Perennial Fruit Plants, Meran, 2001.
Co-Organizer of the XI International Symposium on Iron Nutrition and Interaction in Plants, Udine 2002.
Organizer of the Workshop on Mineral Nutrition of crops in mountain areas. 2012.
Editor of the Journal of the Italian Society for Horticultural Sciences (Italus Hortus).
Member of the editorial Board of the European J. Agronomy and of Tree Physiology;
referee of Plant& Soil, Scienta Hort. J. Hort. Sci, Agriculture Ecosystems and Environment, J. Plant Physiology, Agrochimica, Advances in Hort. Sciences, etc.