Carlo Andreotti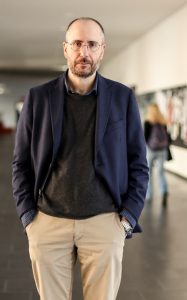 Associate Professor
carlo.andreotti@unibz.it
Born in 1969
Current Academic Position at UNIBZ: Associate Professor since 2015
Education:
2002, Ph.D. in "Fruit Tree, Forestry and Ornamental Agro-Ecosystems", University of Bologna. Thesis title: 'Phenolic compounds of Pyrus communis: cultivar characterization and evaluation of their role in plant response to abiotic and biotic stresses'
1997, Laurea (equiv. to M.Sc.) in Agricultural Sciences, University of Bologna
Previous academic positions:
Assistant Professor (Researcher) at Free University of Bozen-Bolzano from 2009 to 2014
Researcher at CRA (Consiglio Nazionale per le Ricerche in Agricoltura) at the Fruit Production Unit in Forlí (FC) from 2008-2009
Research Assistant (with post doctorate fellowships) at the Dipartimento Colture Arboree of the University of Bologna from 02/2002 to 01/2007
Main fields of research
My ongoing research activity is focused on two main areas of interest:
Mountain viticulture: optimization of cultural inputs to enhance grape quality.
This research line is focused on the efficient use of cultural inputs to enhance grapevine performances and quality. More in detail these are the current research actions: i) Efficient use of water resources in vineyard. The activities are conducted within the projects "Effect of different water supply management on grapevine growth and quality performances" (2014-16) and "Water use efficiency across land use types in South Tyrol" (2016-2018); ii) Canopy management techniques to delay berry ripening in grapevine. This activity is conducted within the project "Pre-harvest techniques to control fruit ripening in Sauvignon Blanc grapevines" and in collaboration with the Research Centre Laimburg; iii) Use of biochar as soil amendment in vineyard. Research activity conducted within the FESR project "Optimization of wood gasification chain in South Tyrol to produce bio-energy and other high-value green Products to enhance soil fertility and mitigate climate change (WOOD-UP) in collaboration with different research groups of the Faculty of Science and Technology, Laimburg and IDM.
Use of biostimulants to enhance sustainability of fruit crops.
This research line deals with the experimental application of biostimulants (seaweed extracts, amino acids mix, vitamins, chitosan, mineral elements) which are able to affect primary and secondary metabolisms of the plant. The goal is to explore the potentially of these products to improve different aspects of fruit crop performances, such as growth, vigor, yield and overall fruit quality and storability. The activities are conducted in collaboration with a private company, which in part support the project financially.
Funding agencies
2017 – 2020 – FESR. Effect of biochar application on soil-grapevine water status and to enhance N-fertilizer efficiency in grapevine cultivation (WOOD.UP project). Research Unit responsible
2016 – 2019 – Unbz projects. Pre-harvest techniques to control fruit ripening in Sauvignon Blanc grapevines.
2016 – 2018 – Unbz projects. Water use efficiency across land use types in South Tyrol. Member of the research team, responsible for the manipulation experiments in vineyards.
2016 – 2017 – Impiego dei prodotti biostimolanti su alcune colture frutticole: effetti sulla crescita delle piante e sulla qualità dei frutti. Project supported by ILSA SpA